Muhammad Adnan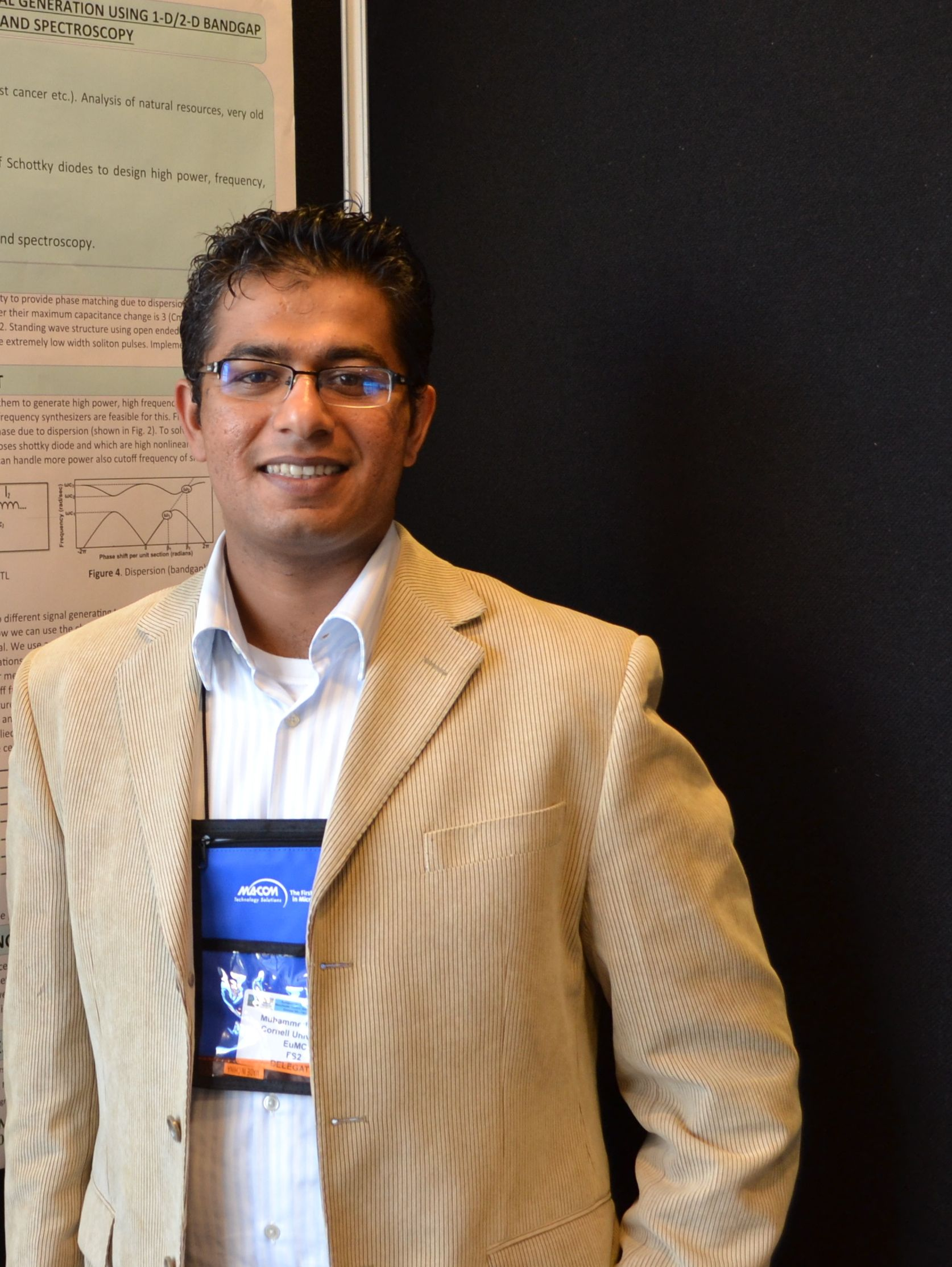 Ph.D. Candidate, Cornell University
Email: ma479(at)cornell.edu
My ECE webpage can be found here.
My resume can be found here.
Address:
362 Duffield Hall
Cornell University
Ithaca, NY 14853
Phone: 607-255-4208
Muhammad Adnan received his B.E. in electrical and computer engineering from National University of Sciences and Technology, Pakistan. After working for a year in Center for Advanced Research in Engineering (CARE), he joined Cornell University as a MS/PhD student. In the summers of 2009, he joined Professor Afshari's group.
Muhammad is interested in the broad area of high speed integrated circuits and systems. His research has spanned from high speed nonlinear circuits to very high resolution data converters.
Awards and Honors
Irwin and Joan Jacobs Fellowship, Cornell University - Spring 2012.

President Gold Medal for best in academics in BE.

Rector Gold Medal for best senior design project in BE.

Among the top 10 student out of twenty five thousand students in HSSC (High School).

Chief of Army Staff Gold Medal for best performance in HSSC.

2nd Prize in All Pakistan Software Competition, COMPEC.
Publications & Patents
Journal:
M. Adnan and E. Afshari, "Phase Matching using Band-gap Structure for High Frequency Low Conversion Loss Passive Frequency Multiplication," to be submitted to IEEE Journal of Solid States Circuits,.

W. Lee, M. Adnan, O. Momeni and E. Afshari, "A Nonlinear Lattice for High- Amplitude, Picosecond Pulse Generation in CMOS," to appear in IEEE Transactions on Microwave Theory and Techniques.

Saadat, S.; Adnan, M.; Mosallaei, H.; Afshari, E., "Composite Metamaterial and Metasurface Integrated With Non-Foster Active Circuit Elements: A Bandwidth-Enhancement Investigation," IEEE Transactions on Antennas and Propagation. March 2013
Conference:
E. Afshari and M. Adnan, "Enabling High Amplitude Pulse and Milliwatt THz Generation in CMOS" to appear in IEEE Wireless and Microwave Technology Conference (WAMICON) 2013.

M. Adnan and E. Afshari, "A 105GHz VCO with 9.5% Tuning Range and 2.8mW Peak Output Power Using Coupled Colpitts Oscillators in 65nm Bulk CMOS" to appear in IEEE Radio Frequency Integrated Circuits(RFIC) Jun. 2013.

M. Adnan and E. Afshari, "A Low Conversion Loss Passive Frequency Doubler," Proc. of IEEE Custom Integrated Circuits Conference (CICC) Sep. 2011.

M. Adnan and E. Afshari, "Phase Matching Using Bandgap Structures for Effi- cient Parametric Frequency Conversion," Proc. of European Microwave Conference (EuMW) Oct. 2011.

M. Adnan and E. Afshari, "Bandwidth Enhancement of Passive Filters using Effective Negative Group Index (NGI) Structure," Proc. of IEEE International Symposium of Circuits and Systems (ISCAS) Jun. 2010.
Patents:
D. Ehyaie, M. Adnan, ``An all Digital Low Loss Passive Phase Shifter for mm-wave Frequencies,'' US patent pending.